We are a true community shop and are the epicenter of all cycling activities in Lincoln County.  We all have a love of cycling and when we are not at work you can find us out riding our bikes.  Bike Newport is a full service and repair shop as well as selling new and used bikes for everyone in the family.  We offer bike fitting services and bike repair classes.  We have had the honor of working with people with special needs to find an adaptive trike to give them more independence and mobility.
Bike Newport also has a Yoga Loft where we offer classes ranging from yoga to kickboxing several days a week from Fall to Spring.  We are a haven for cycle tourists and offer a lounge area for relaxing and recharging and fully stocked shower & laundry facilities.
Bike Newport is involved in coordinating bike safety rodeo's, bike to school days, community bike rides, and is the "clubhouse" for the local cycling club, Yaquina Wheels.  We are the gatekeepers for maps and permits for the local trails and spend a lot of time doing trail maintenance and volunteering our time to sit on cycling boards locally and statewide.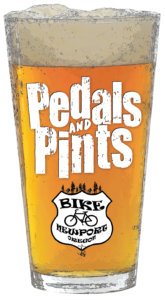 Now serving beer, cider & kombucha!
Stop by and have an ice cold beer, cider or organic kombucha while you look for the perfect bike or accessory.  We have four rotating taps to quench every thirst.